D-Tools Supplier Partners realize the importance of bringing you their product information and have chosen to support the D-Tools user community by joining the program and making their product data directly available through D-Tools SI software. Read on for the latest supplier company news and product updates.
---
AudioQuest NRG-Y and NRG-Z AC Power Cables: Performance, Value, Versatility, and Convenience
AudioQuest's new high-performance AC power cables—NRG-Y and NRG-Z—apply much of the technology that makes the award-winning Storm Series such a success among
uncompromising audiophiles and passionate music lovers, but places it in thinner, more flexible, and far more affordable designs. While these NRG cables are designed for use in any home theater or two-channel system, they are also available in short lengths, packaged in AudioQuest's installer-friendly iPacks—perfect for rack builds that require convenience matched by world-class performance.
Like the Storm models, the new NRG cables employ AudioQuest's sophisticated Zero Characteristic Impedance Technology for uncompressed current transfer. By eliminating the cable's characteristic impedance, associated amplification components can more effectively drive their partnering loudspeakers. Whether the amp is running at less than a watt or fully maxed out, the unrestricted transients create a visceral, thrilling, and much more believable listening experience.
For various applications and devices, the cables are available in two-prong and three-prong versions. And, as always, AudioQuest pays careful attention to the quality of conductor material. NRG-Y2 (two-prong) and NRG-Y3 (three-prong) use AudioQuest's Long-Grain Copper in a 7-strand Semi-Solid Concentric arrangement in which the individual strands never change position within the bundle. Meanwhile, NRG-Z2 and NRG-Z3 feature AudioQuest's higher-quality Perfect-Surface Copper conductor metal. Together, these high-purity metals and specialized conductor geometries minimize RF interference and reduce distortion for cleaner, clearer, more naturally dynamic sound.
Finally, all the new models use direction-controlled conductors and silver-plated drain wires to more effectively control radio-frequency noise, draining it away from where it will cause the most damage to sound quality.
Reliability, convenience, and performance: With AudioQuest's new NRG-Y and NRG-Z AC power cables, all customers will get greater performance and pleasure from their important audio/video investments.
---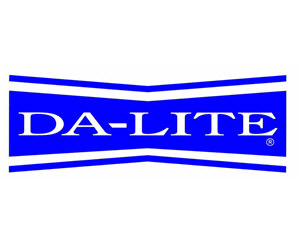 Adding to their industry-leading Ambient Light Rejecting (ALR) surface portfolio, Da-Lite is proud to introduce Parallex 2.3. With the highest gain of all ALR surfaces (2.3), it can be paired with a wide variety of projectors. Especially compatible with laser projection, Parallex 2.3 is made up of multiple mirco-layers to achieve 96% ambient light blocking properties and a
viewing cone of 46 degrees. The result is a bright, colorful image without glare- regardless of how much light is in the room.
Users benefit from larger, more affordable displays that look like flat panels, but without glare from windows, overhead lighting or other light reflections. Each micro-layers has a function in creating the brightly lit display. This latest addition to the Da-Lite ALR lineup is available in fixed frame options that accommodate large-scale installations. The surface has achieved GREENGUARD GOLD Certification.
Ambient Light Rejection: 96%
Half-Angle: 23°
Gain: 2.3
---
The Silent Partner makes some noise.

The projectors of today are fantastic in resolution, but they can generate a lot of heat and the fan noise is not fully masked. These can have a negative impact on home cinema and media room experiences. Our solution is the Silent Partner.
The Silent Partner is a hush box with a convoluted exhaust airflow path and acoustic insulation foam to reduce projector noise. A thermostatic fan control cools the projector.
We had excellent feedback on the Silent Partner from dealers, installers, and end users at CEDIA 2018. Booth visitors were especially positive about the option to mount it on Draper's Scissor Lift to conceal the unit when not in use. It was also named an Excite Award winner by Technology Integrator magazine.
For more information on the Silent Partner, click here.
---
The Symphony Collection
The Symphony Collection brings elegant form to technology. This collection of table boxes features AC outlets, USB charging ports and low voltage openings. A streamline design allows for large cable AV connections while maintaining high aesthetics. The Symphony Collection is available in: Clamp On, Under-Table, In-Table options and 12 different color combinations.
---
O P U S
Fortress is excited to be collaborating with designer, Adam Hunter as he introduces his new line of media room furniture. The Opus, for those who want.
Make movie night chic… sleek arms, slim frame and subtle leather, upholstered feet makes the Opus a stand-out piece in home entertainment. This chair is equally at home in the living room or family room or wherever.
---
SEE YOU IN DENVER NEXT YEAR!
---
KD-MAX8x8: With KD-MAX8x8  the  ease  of  sending  a  single  audio  source  to  multiple  independent  or  grouped  audio  zones  is  what  makes  KD-
MAX8x8  such  an  ideal  product  for  bar  and  restaurant    The  user  experience  is  greatly  enhanced  when  they  are  listening  to  a  single  audio  source  as  opposed  to  a  mix  of  audio  sources  which  can  lead  to  an  unenjoyably  atmosphere.  Using the Key  Digital  App,  Compass  Control  Pro, or controlling by  a  third  party  control  system  users  can  switch  between  a  variety  of  analog  or  digital  audio  inputs  and  adjust  volume  levels  with  ease.
KD-AMP220: KD-AMP220 input  connections  accommodate  microphone,  line  level  balanced,  and  line  level  5mm  stereo  analog  audio  inputs.  The  output  is  a  mix  of  audio  from  the  microphone  input  and  the  selected  audio  input.  Each  input  has  variable  volume  level  set-  perfect  for  presentation  spaces  as  KD-AMP220's  internal  pre-amp  accepts  direct  microphone  plugin  and  can  provide  48V  phantom  power.  Speaker  level  output  may  be  set  to  bridge,  stereo,  or  mono  mode.  Integrators  may  sum  left  and  right  channels  to  a  single  speaker  in  bridge  mode.  For  stereo  applications,  KD-AMP220  may  be  configured  to  send  left  and  right  channels  to  separate  speakers.  Mono  mode  is  especially  useful  in  speech  and  voice  enforcement  applications.
KD-X422POA: Key Digital 's team of  award  winning  engineers  have  developed  HDR10  support  with  4K/60  resolution  on  KD-X422POA.  Data  from  Key  Digital's  proprietary 
Full  Buffer  Technology  enables  HDR  content  to  pass  through  the  extension  even  while  other  HDBaseT  products  in  the  AV  industry  are  not  able  to  pass  the  18G  signals  synonymous  with  the  new  HDMI  0A  standard.      Audio  de-embedding  on  KD-X422POA  enables  external  connectivity  with  audio  distribution  systems  and  amplifiers.  The  HDMI  input  is  de-embedded  through  Analog  L/R  Balanced/Unbalanced  and  Digital  Coaxial  Audio  (PCM)  audio  outputs  on  the  Tx  unit.
---
KLIPSCH WINS BIG AT CEDIA
Klipsch is dedicated to the custom installation market and showcased it at this year's CEDIA Expo in San Diego by debuting a One Stop Shop, full of sound solutions for residential, commercial and outdoor applications. In fact, the new Klipsch C-Series subwoofers and Heritage Theater Bar both won a Residential
Systems Best of Show awards, which are determined dealer votes.
Klipsch C-Series subwoofers offer an enormous amount of bass in an ultra-compact cabinet. Full of tech features to fully customize the experience — including wireless input, iOS/Android device room calibration, and network control from companies like Control4, Crestron, and RTI — these subwoofers are designed to complement any audio system, while being visually unobtrusive. 8" and 10' versions are available.
The Klipsch Heritage Theater Bar is a customizable, high-performance, three-channel sound bar upgrade solution. The highly-efficient passive LCR bar blends the acoustics and classic, nostalgic design legacy of Paul W. Klipsch with premium materials and the latest technologies available today. It is customizable in width, finish, and grille options. Widths range from 49.5" to 80" to perfectly match any flat panel television. Four furniture-grade wood veneer finishes are available, as well as raw and primed for paint versions, plus a choice of four removable grille cloth options to complement any room décor.
Check out each product at Klipsch.com/Custom.
---
Kramer VIA Connect PLUS
Simultaneous Wired and Wireless Presentation and Collaboration Solution
VIA Connect PLUS provides simultaneous wired and wireless presentation and collaboration in multiple huddle spaces with no need for any additional hardware! With any laptop or mobile device, users can view, edit and comment on documents in real time, share files and chat with individuals or multiple participants simultaneously. This cost-effective solution also includes an HDMI input and much more!
http://true-collaboration.com.
---
Got Big, Beautiful Data?  Don't Hide It Behind a Compressed Signal
The demand for greater signal extension over longer distances is increasing as the market turns to 18G signals.  Keeping a quality, uncompressed signal over these distances is now possible through the use of fiber.  This year, at CEDIA 2018, new 18G fiber innovations were a hit at the Liberty AV Solutions booth. Since the installation at hand is never 'one-size sits all', Liberty's spread of products is designed to offer flexibility for the needs of the AV installer. 
Liberty's newest, standalone format, the 18G HDMI 2.0b Over Fiber Extender (DL-FHD2), reaches uncompressed extension distances up to 1000' with the use of a duplex multimode fiber optic cable.  The DL-FH2 supports the full HDMI 2.0b specification and also extends bi-directional IR, RS232 pass through control, ARC / digital audio upstream extension, supports static HDR (HDR10) and dynamic HDR (HDR10+, HLG and Dolby Vision), and is HDCP 2.2 compliant.
To complete the 18G extension, fiber optic solutions are available including Inneos and AOC cables. Liberty AV also recently entered into a distribution agreement with Cosemi Technologies.
Lining up all the new 18G options, 10G options, and Fiber options can be a challenge, however, Liberty AV has updated their Extender Comparison Matrix to include their 18G solutions.   Download the web-linked version for your convenience.
Not quite on the 18G bandwagon?  Liberty's 10G solutions can now be snatched up at new lower prices.  Learn more at https://secure.libertycable.com/Lower-prices-on-our-10G-top-sellers.php or give Liberty AV's knowledgeable customer service team a call 800-560-8998 or reach out via orders@libav.com for more information.
---
Luxul to Showcase New Easy Setup App for Integrators at CEDIA Expo 2018
Simple-to-Use Mobile App Speeds up Installations and Optimizes Network Infrastructure, Lowering Costs and Delivering Excellent Wireless Performance
 Luxul, the leading innovator of IP networking solutions for AV integrators, today announced that its new Easy Setup App will be showcased at CEDIA Expo 2018 Sept. 6-8 at Booth 4301 in the San Diego Convention Center, with an expected release by the end of the year.
The Easy Setup App will allow integrators to install a Luxul wireless router and up to two wireless access points (APs) — at the same time — from the convenience of a mobile phone. The app will greatly speed up the installation process and will ensure that key installation points are covered. It will be available as a free download from the Apple and Android stores when released.
"At Luxul, we are passionate about simplifying installations for integrators, making it easier and more profitable," said Mike Grubb, vice president of marketing at Luxul. "To support that, our Easy Setup App is a simple-to-use mobile application that not only speeds up installations but ensures the network infrastructure is installed with the appropriate settings and the latest firmware. The result is lower costs for integrators and their customers and a seamless wireless network that provides outstanding performance."
---
Monitor Audio Vecta V240-LV
Vecta is an architectural weather resistant range of speakers that offers incredible versatility and simple installation in places where other speaker choices would prove impractical. In both residential and commercial locations, Vecta speakers can be wall-mounted either horizontally or vertically, and discreetly installed under eaves or straight on the corner.
The new V240-LV speaker adds further versatility in commercial applications with 70/100V line level operation. An integrated transformer allows the system designer to consider multiple speakers in a system without worrying about impedance matching or losses where long cable runs are required. The V240-LV features two 4" C-CAM drivers and a C-CAM Gold Dome tweeter
To further expand the application options of the V240-LV speaker, Monitor Audio has launched a new 4-point cluster bracket, the V-CLUSTER. Using a ceiling-fan-mounting pole* (not supplied) allows four V240-LVs to be slotted onto the V-CLUSTER bracket to form a sphere, providing near-perfect 360-degree sonic coverage in the horizontal plane. The bracket fitting is completed with a single point screw securing each speaker in place.
With an IP55 rating, Vecta is a speaker range designed to withstand extreme environmental exposure and to deliver incredible audio quality for a lifetime.
---
Platinum Tools Xpress Jack™ Termination Kit (p/n 90175)
The Platinum Tools Xpress Jack™ Termination Kit makes keystone jack terminations easier than ever. The Xpress Jack™ is designed to make keystone jack terminations easier than ever. Seats and trims all eight conductors in one simple and smooth motion. No more punching down eight times for a single termination. Saves time and energy on both small and large jobs. With the Cat5/6 Cable Jacket Stripper and the Scissor-Run Electrician's Scissors to prep your cable, and the Xpress Jack Punchdown tool, this kit makes terminating your Keystone Jacks an efficient and expedient process. With an MSRP of $189.00, the kit also includes a hanging tool pouch, and ten blue Keystone Cat6 110 Jacks and ten white Keystone Cat6 110 Jacks.
---
RTI has released its RTiQ intelligent remote monitoring solution free to RTI dealers. RTiQ can be configured to monitor RTI control ecosystem and components controlled by an RTI XP control processor. Dealers can monitor the status of these devices via a dashboard from anywhere in the world and receive email and text notifications that alert them if a failure occurs. Once alerted, the dashboard helps them identify the cause of
the issue and allows custom actions to be triggered to restore the failed system or component. Customizable actions include anything the control system is capable of, whether it's rebooting devices, running macros, or sending commands.
Integration Designer APEX 10.4 is now also available for download. The backbone of RTI's control and automation solutions, the latest version of the Windows-based programming platform introduces a variety of powerful new time-saving features for integrators — including layers, viewports, and source bundles — in addition to support for the new RTiQ intelligent remote monitoring solution. With layers, Integration Designer APEX 10.4 allows programmers to manage complex layouts with ease by isolating changes to specific areas of the GUI. With shared layers, any edits made on one page are automatically implemented globally. Viewports add even more versatility to RTiPanel devices by providing sections of the screen that can be swiped through without impacting other graphics on the page. Another huge time saver is the source bundle capability, which allows integrators to export fully developed interfaces for reuse in existing or future projects.
RTI and Pulse-Eight have entered a strategic partnership to bring the power of Pulse-Eight's class leading video distribution
technology solutions to the Americas under the RTI brand. Included in the lineup of video distribution products are the VHD-Ux 8×10 Matrix Switch and VHT-Ux Extender Set, which utilize the latest Class C+DSC HDBaseT technology to deliver Ultra HD 4K HDR with 4:4:4 chroma sampling over a single category cable. The result is a visually lossless video image with incredible color depth and contrast. This is all possible over distances up to 328 feet with no latency. Other solutions include 4×4 and 8×10 HDBaseT matrix switches, HDBaseT extenders (including 4K/60 HDR), and an HDMI 18Gbps 4K downscaler with audio de-embed. With an RTI matrix powered by Pulse-Eight, integrators can benefit from seamless integration inside the RTI control platform, including fault detection and self-discovery capabilities. In addition, by utilizing RTiQ and Pulse-Eight's built-in monitoring tools, integrators can intelligently monitor their clients' systems.
---
Since 1947, Stewart Filmscreen has delivered the Hollywood film experience to your home. For the ultimate in viewing experience, Stewart Filmscreen offers a newly updated Directors Choice projection screen, a 4-
way masking screen with an incredibly thin bezel that can give you a 30% bigger image compared to our previous generation. The Director's Choice is for those clients that enjoy cinematography and blockbusters alike, and is the ultimate in viewing experience. Controlled by our revolutionary Binary Reciprocal Intelligent Control nicknamed "The BRIC", it allows precision settings of all standard and custom aspect ratios to be set with ease, eliminating the need for multiple controllers. Compatible with most infrared remotes, RS‐232, and RS‐422 control systems, this unique product reduces programming time to a matter of minutes. The Director's Choice is easy to tune and operate ensuring a perfectly masked image no matter what the aspect ratio. Never again must you cope with unsightly black bars or image cropping. Optimize your Director's Choice with Stewart's award‐winning front projection materials. Microperf X2 is available when acoustic transparency is required with acoustically transparent panels. Stewart's exclusive VeLux™ black‐velvet appliqué gives the Director's Choice a luxurious look and feel. This specialized frame finish absorbs possible over‐scan while boosting perceived contrast.  Sit back, relax, and enjoy the same precision quality and perfect picture that is preferred by Film and TV Directors all over the world with the Director's Choice.
---

Now Available! TRENDnet's Easy EdgeSmart Networking!
TRENDnet's EdgeSmart switches features the most commonly used managed switch features, reducing unnecessary switch complexity. The web-based management interface offers features for traffic control, LACP, RSTP, VLAN, QoS, access control, link aggregation, and monitoring. TRENDnet's EdgeSmart switches allows for simple network integration into your SMB network.
---
Now Shipping!  TruAudio's Commercial Surface-Mount Outdoor Speaker is equipped with 70v and 100v tap settings to easily create a distributed audio system
throughout a commercial space.  A high-excursion 6.5" polypropylene woofer provides low bass extension, and the 1" soft dome tweeter provides accurate clarity over a wide area.
The IP66 rating provides environmental endurance and protection from outdoor elements.  Featuring a weatherproof, extreme temperature resistant cabinet and corrosion-proof aluminum grill, making it a perfect fit for any outdoor application.
Low-profile mounting bracket allows for vertical or horizontal 120 degree range of motion.
Available in either black or white finishes.  Order by 10/31 and receive our Give-It-A-Go Pricing.  TruAudio OL-70V-6
---
Vantage is excited to join the D-Tools' Cloud and i3 (Industry Information & Insight) Program. Vantage's participation provides D-Tools' software users access to the company's detailed product specifications and related information for use in their sales, system design, documentation, procurement, and project management of low-voltage systems.
For more than 30 years, Vantage has applied proven technologies to deliver precise control and exceptional environmental aesthetics to luxury spaces. Vantage offers a range of residential solutions focused on providing unmatched lighting, shading, and comfort systems that are simple to design, install, and maintain. Products include the industry's most distinct range of fixed, wireless, and mobile interfaces. More than 5,500 Vantage products are already available in D-Tools' Data Library for dealers to use in their projects.
"D-Tools provides us with a great way to connect and build customer loyalty with many of the top residential dealers in the industry," said Julie Hazard, Sales Operations Manager for Vantage. "Not only will this partnership allow us to expand our reach, but will provide designers and integrators greater access and information about Vantage's broad portfolio of solutions."
---
Video Mount Products IWB-1B In-Wall Box
As flat panels themselves become increasingly slimmer, customers are looking for even more ways to get these mounted TVs and monitors as flush with the wall as possible. The Video Mount Products IWB-1B is an in wall box that allows up to a 32-inch flat panel to fully collapse into a wall.  It installs easily between two 16-inch on center wooden studs, has integrated cable and electrical knockouts, and a high load capacity.  The IWB-1B works with the LCD-1B and LCD-2537B mounts. The IWB-1 is yet another option for discerning installers and customers who demand both aesthetic appeal as well as the famed VMP reliability. Whether in the office, commercial install, home, or any other application where a low-profile wall mounted flat panel option is desired, the VMP IWB-1B is the answer. www.videomount.com
---