The D-Tools Manufacturer Vantage Point Program provides comprehensive data from leading manufacturers to D-Tools SI software users at no charge to the user. D-Tools MVP members understand the importance of providing current, quality product specifications in order to better support their dealers in their client engagements. We would like to welcome our new and returning MVP Program partners, whose product data is available to all System Integrator users free-of-charge.
---
NEW MVPS
Dynaudio is the leading producer of hand-crafted high-end loudspeakers created by impassioned music lovers for your living room, the professional studio and for your car. Founded in 1977 in Skanderborg, Denmark, we have more than 35 years of experience in producing high-end speakers. Building on our legacy, we are adding an unpretentious yet proud and highly ambitious expression to Dynaudio.To learn more, visit https://www.dynaudio.com/.
---
RETURNING MVPS
Located in Fort Wayne, Indiana, Attero Tech is a leading provider of unique and cost-effective networked AV solutions for small and medium sized venues. Attero Tech solutions help AV systems integrators reduce cost, improve audio quality, future proof systems, and meet their most demanding design requirements. Leveraging their deep background in audio networking and audio theory, Attero Tech engineers have developed out-of-the-box solutions for virtually any connection scenario. If there is a need, Attero Tech has the solution.
To learn more, visit https://www.atterotech.com.
Theater Seating Designed To Your Specifications – Fortress Seating is one of the few companies in the industry that actually manufactures their own chairs. Working with a prime manufacturer gives you the flexibility to customize the seating anyway you like. For over 70 years, Fortress has been providing exceptional solutions to all seating challenges. Completely customizable seating, combined with a wide array of accessories, gives you the tools to truly design your home theater.  Whether it's following a particular curve in the room, creating a custom design, or incorporating one-of-a-kind accessories, Fortress is here to help.
Fortress sets the benchmark for unique designs, customization, exceptional quality and customer service. With a corporate philosophy of "Let's give it a try," almost anything is possible.
To learn more, visit http://www.fortresseating.com.
The Gallo Acoustics name is synonymous with spherical loudspeaker technology. Simply, we make the world´s finest ´small´ speakers, including our classic 4″ Micro, 5″ A´Diva, Droplet pendant speaker and stunning Strada 2 reference AV models. Available in a range of 11 stock colours and finishes and with multiple installation options, the Gallo Acoustics range is installation-friendly and easy on the eye and ear. For that special project, Gallo's SPECTRUM bespoke service opens up a world of colour choices from the Pantone and RAL library, or simply match a colour from a swatch. Whether for traditional 2 channel hi-fi, mulit-channel home cinema or smart home applications, we have a product that fits, each with a range of installation-friendly mounts and accessories.
To learn more, visit http://www.galloacoustics.com.
Key Digital® led by digital video pioneer Mike Tsinberg, develops and manufactures high quality, cutting-edge technology solutions for virtually all applications where high quality video imaging is important. Our products are used by professional broadcasters, corporations, custom installers, home theater retailers, and consumers. The next time you are planning out your video and audio installation, come to Key Digital. At Key Digital, we're at the forefront of technology with the innovative features and solutions you've been looking for.
To learn more, visit http://www.keydigital.com.
LILIN is a global IP video manufacturer with over 30 years of experience. Throughout the years, the company has maintained its dedication to Creativity, Progress, and Excellence providing expertise in digital video with a strong focus on innovation moving forward. For more information on LILIN and LILIN IP video products, visit www.LILIN.US.
Monitor Audio Ltd is a British owned and managed global specialist in hi-fi loudspeaker design, incorporating stereo and surround sound systems and a range of sonically matched architectural speakers for ultra discreet high quality sound around the home and outside.
Whatever your taste and budget you'll discover a Monitor Audio speaker that answers your desire for great sound. Since hi-fi was in its infancy we've dedicated all our technical expertise, innovation and craftsmanship to the creation of world-class loudspeakers, which communicate the essence of our brand and reward the people who buy them. We want you to share and enjoy the blend of style, quality, performance and sophistication that makes Monitor Audio unique.
To learn more, visit http://www.monitoraudiousa.com/.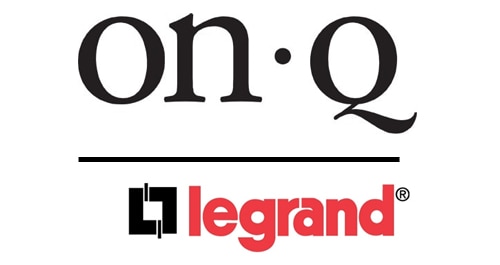 Legrand is a global specialist in electrical and digital building infrastructures. Its comprehensive offering of solutions for use in commercial, industrial, and residential markets makes it a benchmark for customers worldwide. Innovation for a steady flow of new products with high added value is a prime vector for growth, including, in particular, connected devices stemming from Legrand's global Eliot (Electricity and IoT) program.Legrand reported sales of $6.2 billion(USD) in 2017. Legrand has a strong presence in North and Central America, with a portfolio of well-known market brands and product lines that includes AFCO Systems, C2G, Cablofil, Chief, Da-Lite, Electrorack, Finelite, Luxul, Middle Atlantic Products, Milestone AV, Nuvo, OCL, On-Q, Ortronics, Pass & Seymour, Pinnacle, Projecta, QMotion, Quiktron, Raritan, Sanus, Server Technology, Solarfective, Vaddio, Vantage, Wattstopper, and Wiremold. Legrand is listed on Euronext Paris and is a component stock of indexes including the CAC40, FTSE4Good, MSCI World, ASPI, Corporate Oekom Rating, and DJSI (ISIN code FR0010307819).
To learn more, visit https://www.legrand.us.

SANUS, a division of Milestone AV Technologies, designs and builds fine AV mounts, furniture, stands and accessories. Every SANUS product is engineered to enhance AV systems and the surrounding decor. Today Sanus offeres more than 300 home theater unites, TV and audio stands, mounts, speaker supports, AV equipment racks and accessories. SANUS products are available at thousands of retail locations worldwide and can be at the company's website: www.sanus.com.
Wisdom Audio was founded in 1996 with one goal in mind, to create the world's finest loudspeakers unbound by limitations of current technologies and past design. Wisdom's proprietary large scale thin film planar-magnetic transducers, electronic crossovers in place of passive designs, and innovative woofer designs were all developed to solve problems inherent in the limitations of traditional designs and how they interact with the listening room. The result is an experience like no other.
Our passion to provide high end expressions of our art encompasses contemporary home entertainment requirements including multi-channel designs. Whether your interest is in traditional two channel music reproduction or multichannel music and film playback, there is a Wisdom system to address your needs.
To learn more, visit http://www.wisdomaudio.com.